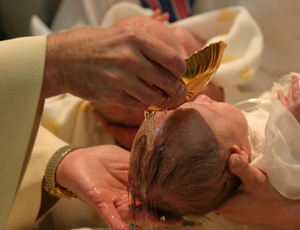 "Be baptized every one of you in the name of Jesus Christ, for the remission of your sins; and you shall receive the Holy Spirit. For the promise is to you and to your children and to all that are far off, whomever the Lord our God shall call." - Acts 2:38
For adult baptisms, please see our RCIA page
For children age six and older, please contact our Faith Formation Office Monday – Thursday 283-0525.
If you would like to have your child baptized please do the following:
Obtain a Baptism Registration form from the parish office, from a Greeter after Mass on the weekend or you may download the form here. Read the instructions on the forms. Complete the registration form and call the priest or deacon for an interview.
Baptisms will be scheduled only after consultation with the priest or deacon. Please allow at least a month after returning the completed form.
For any questions please call the Parish Office at 283-9501.